Paragraphs
Content
Tanks, Troops and Temperature Rise: Implementing NATO's Climate Security Strategy
When: 12 October 14:10-15:10
Format: Panel discussion
Venue: Plenary session
Rapidly accelerating climate change poses growing security risks, ranging from humanitarian disasters to military conflict. Security institutions, the armed forces and defence industry need to play their part in addressing these risks. At the same time, they also need to contribute to mitigating climate change. How can NATO and other major security actors respond to the consequences of climate change while minimising their own greenhouse gas emissions? In this panel discussion, leading experts will explore the relationship between climate change and security organisations. The panellists will discuss the need for institutional cooperation, as well as the challenge of "greening" the armed forced without compromising their operational effectiveness. 
Speakers: 
Moderated by Dr. Benedetta Berti, Head of Policy Planning in the Office of the Secretary General at NATO
Headline (optional)
Rewatch the session
Video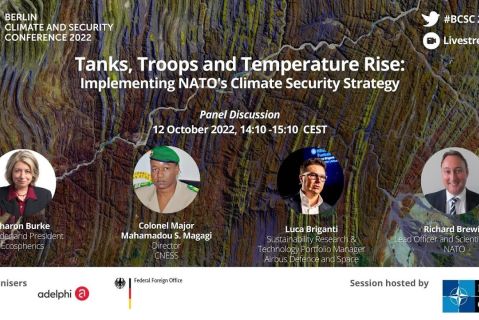 Third-party content
To protect your personal data, the connection to YouTube is blocked. By clicking the play button, you unblock the connection. At the same time, YouTube/Google will receive personal data about your access to the website.
The "Always load content" button will create a cookie to remember your preference for 14 days.