Paragraphs
Content
UNSSC Coffee Hour: Climate change and human mobility, conflict sensitivity and food insecurity in the Karamoja Cluster 
When: 18 October 12:00-13:00
Format: Panel discussion
UNSSC Coffee hour will focus on the intersection of climate change and human mobility, conflict sensitivity and food security in the Karamoja Cluster. Representative of FAO, IGAD Conflict Early Warning and Response Mechanism (CEWARN) and Interpeace will share their strategies for conflict-sensitive and peace responsive programming as well as lessons learnt from strengthening food and nutrition security while addressing drivers of conflict and enhancing the capacity of communities to adapt to climate change. 
The objective of the session is to address the links between food insecurity, conflicts, climate change and human mobility through a sustaining peace lens. 
Speakers:
Moderated by Ginevra Cucinotta, Learning Portfolio Manager, UNSSC
Headline (optional)
Rewatch the session
Video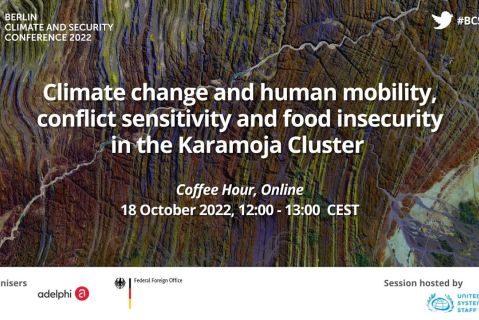 Third-party content
To protect your personal data, the connection to YouTube is blocked. By clicking the play button, you unblock the connection. At the same time, YouTube/Google will receive personal data about your access to the website.
The "Always load content" button will create a cookie to remember your preference for 14 days.