Paragraphs
Content
Resolving Conflict & Clashing Crises: Where hard and soft security challenges converge
When: 12 October 15:30-16:45
Format: Closing panel discussion
Venue: Plenary session
Situating climate related security risks firmly within the geopolitical landscape, this final session of BCSC 2022 will help us identify opportunities for tackling interconnected global crises, the scope for multilateral cooperation, and identify the lessons we can bring forward into COP27. Panelists will explore where and how the global community can apply soft and/or hard security approaches, to address the complex risks explored throughout this conference. 
Speakers:
Dr. Benedetta Berti, Head of Policy Planning in the Office of the Secretary General at NATO
H.E. Jennifer Morgan, State Secretary and Special Envoy for International Climate Action, Minister of Foreign Affairs of Germany
Nazanine Moshiri, Senior Analyst, International Crisis Group
Moderated by: Alexander Carius, Managing Director, adelphi
Headline (optional)
Rewatch the session
Video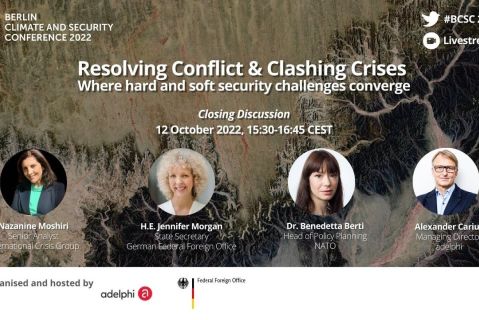 Third-party content
To protect your personal data, the connection to YouTube is blocked. By clicking the play button, you unblock the connection. At the same time, YouTube/Google will receive personal data about your access to the website.
The "Always load content" button will create a cookie to remember your preference for 14 days.