Paragraphs
Content
Protecting the vulnerable while improving human security: The Global Shield against Climate Risks and other approaches
When: 12 October 13:10-14:10
Format: Panel discussion
Venue: Plenary session
Due to climate change, extreme weather events like heavy flooding or droughts are becoming increasingly frequent. Vulnerable people and countries need better protection and support programmes to deal with climate-related losses and damages, to provide protection against climate risks for as many as possible Early action on climate risks can prevent risks from cascading and has potential to build resilience to both climate and conflict risks.
Yet, there is often a gap when it comes to investing in early action. This session will look at some concrete examples of early action, including financial protection and preparedness plans such as the upcoming Global Shield flagship program and explores learnings from prior aid architecture to scale up best practices.
Speakers:
Moderated by Nazanine Moshiri, Senior Analyst, International Crisis Group
Headline (optional)
Rewatch the session
Video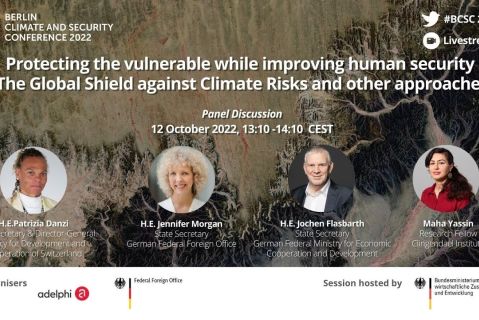 Third-party content
To protect your personal data, the connection to YouTube is blocked. By clicking the play button, you unblock the connection. At the same time, YouTube/Google will receive personal data about your access to the website.
The "Always load content" button will create a cookie to remember your preference for 14 days.