Paragraphs
Content
The Nature of Conflict and Peace: The links between environment, security and peace
When: 10:15-10:35
Format: Thematic input 
Venue: Plenary session
Environmental degradation and biodiversity loss are important drivers of conflict increasingly impacting global peace and security. This nature-security nexus is visible in the links between biodiversity and livelihood insecurity, resource conflicts, environmental crimes, and the environmental impacts of war and conflict. 

As geopolitical tensions with wide-ranging environmental impacts are on the rise and with the need to address this nexus increasing as environmental degradation and biodiversity loss intensify, join us as a we present the four nature-security pathways from the WWF-adelphi report: The Nature of Conflict and Peace.
Speakers: 
Headline (optional)
Rewatch the session
Video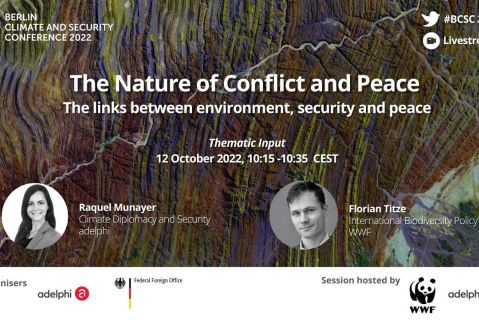 Third-party content
To protect your personal data, the connection to YouTube is blocked. By clicking the play button, you unblock the connection. At the same time, YouTube/Google will receive personal data about your access to the website.
The "Always load content" button will create a cookie to remember your preference for 14 days.