Paragraphs
Content
How can Climate Risk Management be Strengthened in Conflict Zones?
When: 20 October 15:00-16:30 
Format: Panel discussion 
The panel will explore how climate risk management can be strengthened in conflict zones and how conflict monitoring and analysis can be improved in regions experiencing climate fragility. 
Climate change's destabilising impact is increasingly visible across the globe, with more frequent and severe weather events and temperature extremes contributing to insecurity and conflict. While climate change's relationship with conflict is complex, areas experiencing instability, poor governance, and poverty tend to be more vulnerable to both climate change and deadly violence; half of the most climate fragile countries also experience conflict. In order to effectively address this volatile mix, climate policy and financing must take account of conflict dynamics. This panel will investigate how to do so in terms of both climate change's relationship to conflict and the challenges that climate insecurity poses to humanitarian relief. 
Speakers:
Chris Funk, Director, Climate Hazards Center
Linda Ogallo, Climate Change Adaptation Expert, IGAD
Dr. Kwesi Sansculotte-Greenidge, Peacebuilding & Natural Resource Management Expert, WFP 
Moderated by Nazanine Moshiri, Senior Analyst, Climate & Security, Africa, ICG 
This session is hosted by the International Crisis Group 
Headline (optional)
Rewatch the session
Video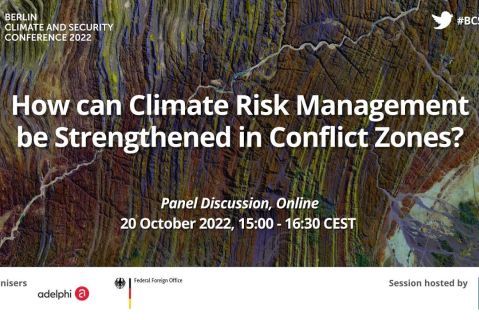 Third-party content
To protect your personal data, the connection to YouTube is blocked. By clicking the play button, you unblock the connection. At the same time, YouTube/Google will receive personal data about your access to the website.
The "Always load content" button will create a cookie to remember your preference for 14 days.