Paragraphs
Content
Climate security in the current and future global conflict landscape 
When: 17 October 15:00-16:30 CEST 
Format: Panel discussion 
The panel discussion will provide an opportunity to preview the content of The Armed Conflict Survey 2022, an IISS flagship yearly publication which provides an exhaustive review of the political, military and humanitarian dimensions of 33 active armed conflicts globally. The survey provides unique insights into the geopolitical and geo-economic threads linking conflicts across the world. It is designed in response to the need for forward-looking information for policy-makers, practitioners, academics and corporates operating in or near countries affected by conflicts.
In response to the Armed Conflict Survey 2022, panelists will discuss the challenges arising from climate change and the geopolitical and geo-economic implications of a green energy transition. Experts will explore geo-strategic competition for critical minerals and emerging conflict flashpoints and the instrumentalisation of resources in fragile and conflict-affected countries. 
Speakers:
Laura Birkman, Senior Strategic Analyst and head of the Climate and Security Program, The Hague Centre for Strategic Studies
Alec Crawford, Director, Nature for Resilience, IISD
Erica Pepe, Senior Coordinator for Research and Conflict, Security and Development Analyst, IISS
Moderated by Irene Mia, Editor, Armed Conflict Survey; Senior Fellow for Latin America and Conflict, Security and Development, IISS 
For further reading:
This session is hosted by the International Institute for Security Studies 
Headline (optional)
Rewatch the session
Video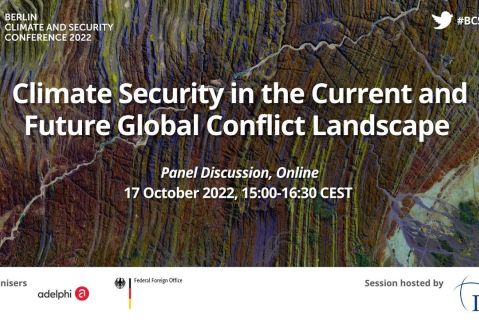 Third-party content
To protect your personal data, the connection to YouTube is blocked. By clicking the play button, you unblock the connection. At the same time, YouTube/Google will receive personal data about your access to the website.
The "Always load content" button will create a cookie to remember your preference for 14 days.