Paragraphs
Content
Building peace and protecting the environment: Supporting the roles of civil society actors in the Middle East
When: 18 October 10:30-12:00
Format: Panel discussion 
The aim of the session will be to discuss the work of civil society actors carrying out conflict prevention and environmental protection activities in the Middle East, and to put forward recommendations on how the European Union (EU) and other international actors should support civil society efforts to build peace and to address the effects of climate change in the region.

The panellists will provide insights on their organisations' work, priorities and/or needs in addressing the intersection between climate change, environmental degradation, conflict and gender inequality. The discussion will then be opened to the audience to share experiences, best practices and lessons learned in developing integrated responses to these challenges, and to reflect on recommendations for the EU and other international actors
Speakers: 
Haider Al Ibrahimi, Director, Peace Paradigms Organisation
Abdel Rahman Sultan, Deputy Director, EcoPeace Middle East
Mariko Peters, Senior Peace & Conflict Advisor, EEAS 
Moderated by Lorenzo Angelini, Senior Policy Officer, EPLO 
Headline (optional)
Rewatch the session
Video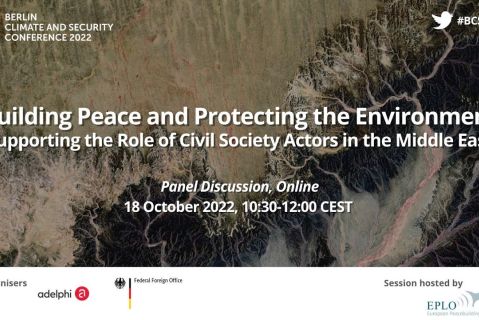 Third-party content
To protect your personal data, the connection to YouTube is blocked. By clicking the play button, you unblock the connection. At the same time, YouTube/Google will receive personal data about your access to the website.
The "Always load content" button will create a cookie to remember your preference for 14 days.