Paragraphs
Headline (optional)
BCSC-Nairobi Speaker 2023
Image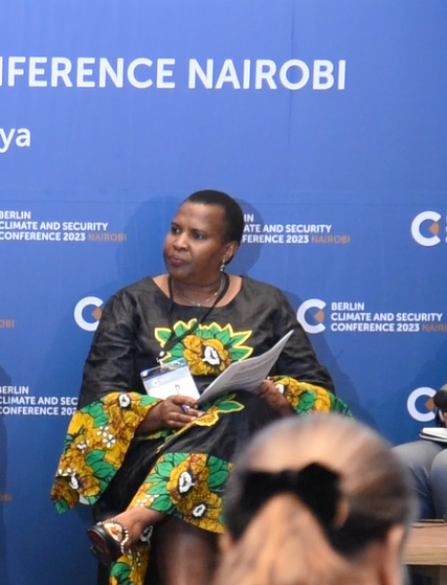 Text (optional)
Alice Ruhweza is a Global Thought leader and International Development Expert with over 25 years extensive experience working at the intersection of Climate Change, Development and the Environment across multiple continents. She is currently the Senior Director for Global Policy Influence and Engagement at the World Wide Fund for Nature (WWF International) where she works to ensure WWF and partner's thought leadership and best practice continues to be highly influential and proactively shapes and informs the sustainability agenda and key policy directions in Africa, Asia and Europe. Before she took on this role, she was the Africa Region Director where she led WWF's US $130 million a year Africa portfolio comprising 14 countries and over 600 staff.
Prior to joining WWF, Alice was Vice President of Programs and Partnerships with Conservation International, where she led a science-policy interface which provided data and diagnostic tools to help inform agricultural decisions and monitor outcomes around the world. She was also the Team Leader and Technical Adviser for the United Nations Development Programme (UNDP)'s Global Environmental Finance Unit where she led a team of technical advisors supporting 44 countries to attract and drive over US $1 billion public and private finance towards their sustainable development priorities including Climate Mitigation and Adaptation; Sustainable Finance; Sustainable Energy for All; Nature Based Solutions to mention a few. She has also previously worked as a consultant for the UNFCCC (Bonn), the World Bank Environment Department (Washington DC), the Foundation for International Law and Development (UK), the Institute for European Environmental Policy (Brussels), to mention a few.
Alice holds a Bachelor's and Master's Degree in Economics, and Certifications in Leadership from the Harvard Kennedy School of Government; IMD Business School in Lausanne Switzerland; Oxford University, Said Business School and has attained the United Nations System Mastermind in Sustainable Development Leadership. She sits on the Board of the CGIAR; Co-chairs the World Economic Forum's Sustainable Aquaculture 2030 Working Group; and is a member of the European Commission's High Level Expert Group on Scaling up Sustainable Finance in Low- and Middle-Income Countries (LMICS). She is a Senior Fellow of the Aspen Institute's New Voices Program: a Henry Arnhold Conservation Fellow; and a fellow of the Salzburg Global Seminar. She is also an International UN Gender Champion and a staunch advocate for Diversity, Equity and Inclusion.
Session: Taking Stock of Progress: Climate change and security in Africa